The classic rock playlist 17-year-old X Games gold medalist Hailey Langland listens to over and over
Olympic hopeful Hailey Langland was just practicing before the 2017 X Games when she inadvertently spun a bit too fast -- and wound up turning a cab 900 double cork into a history-making cab double cork 1080. The result: an X Games gold medal in Snowboard Big Air, and a big confidence boost going into this year's Olympic season.
Langland, who's gearing up for the Dew Tour in Breckenridge, Colorado, next week, shared what she listens to as she gets ready to compete. "My absolute favorite song is 'Vienna' by Billy Joel," she says. "When I'm competing, I always get a little too excited and start to forget what's in front of me. 'Vienna' is a song I love listening to because it keeps me happy but calm at the same time. I could listen to it over and over no matter what mood I'm in."
Here's the rest of her list: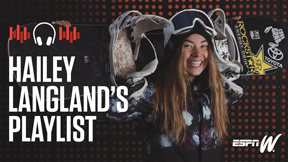 Get more athlete playlists